"My top three challenges are 'walking the talk', having a committed and strong EDI leadership and mainstreaming EDI in everything you/we do."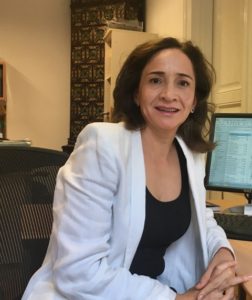 Aida Salamanca is the director of the British Council in Croatia and Slovenia. Before joining the teams in Croatia and Slovenia she was deputy director of the British Council in Colombia where she led major Education projects including curriculum reform, national teacher training programmes, internationalisation of Higher Eduation and the promotion of Science and innovation links.
She was also responsible for the Arts and Education response from the UK to the Colombia Peace Agreements signed in 2016.
Ms Salamanca has extensive experience in the development of Education and English Language Teaching. Before Joining the British Council, she worked on the publishing sector with responsibility over the Americas.
1.    Why and since when does your company believe and invest in diversity management?
The British Council is the UK's cultural relations organisation. Our objective is to build meaningful, enduring and respectful relationships across different cultures. We cannot do this if we do not have a commitment to equality, inclusion and valuing diversity.
We launched our first Equality, Diversity and Inclusion strategy in 2002 and since then it is refreshed every three years. Each revision builds on the lessons learnt on the previous period and takes into account internal and external changes. Finally it outlines our EDI priorities for the next three years.
Apart from the Equality, diversity and inclusion strategy which sets out how we approach the challenges of mainstreaming EDI, we also have the Equality policy. With both documents we try to make EDI a part of everything we do.
2.    What aspects of diversity management have the highest priority in your company?
Mainstreaming EDI is our overarching goal. We focus on six main (but not exclusive) areas: age, disability, ethnicity/race, gender, religion or belief and sexual identity/orientation.
This focus helps us give due regard to key aspects of EDI and use our resources effectively. We appreciate these areas do not stand alone but can and do intersect.
3.    Which D&I activities have been implemented in your organisation so far?
Our main objective as a whole is to build an inclusive organisational culture. To achieve this we work to reduce any unfair, unjustified and unnecessary hierarchical divisions based on contract type, most notably between UK and locally contracted staff and teachers. We nurture an organisational culture where people working and engaging with us feel respected and comfortable being themselves, free from unjustified discrimination, offensive behaviour or bullying.
Therefore we, at the British Council, have many tools and initiative that help us implement diversity into our work. For example we have the Diversity assessment framework. This is our overarching bespoke diversity measurement tool. It is used in all our offices worldwide to assess the progress our teams are making in mainstreaming diversity.
The Diversity Assessment Framework contains a series of indicators that help measure performance across key areas, such us fair recruitment, fostering inclusion in our offices, developing capabilities of our staff in the area of diversity, enable access to all to our services and activities and many others.
4.    Many companies aren't prioritising inclusion and diversity initiatives right now. Why should they reconsider?
Introducing EDI initiatives in a company is a process that takes time to evolve and mature. Our decision to do so stands on 3 pillars which are true to all: a business opportunity, moral commitment and consistency and legal obligation.
The company needs to be in a stage where delivering EDI initiatives is seen as something that would see benefits across all levels of the organisation and externally. There is no 'one-size-fits all solution' and that evidence shows that companies have gained business benefits from equality and diversity.
Evidence demonstrates that more diverse companies are better able to attract young talents, improve employee satisfaction, and decision making, and all that leads to increase business returns.
5.    In your opinion, what tangible benefits does diversity bring to your company?
Mainstreaming EDI principles and practices is good for our business and determines our business case. It supports us to:
Deliver effective cultural relations; without EDI cultural relations is not fit for purpose.
Demonstrate our respect for, knowledge of and skills in working within the diverse cultures and countries in which we operate.
Achieve a fair, inclusive organisational culture, recognised as such by staff and contacts, with values we consistently apply.
Maintain our strong brand and positively benchmark ourselves alongside other organisations in the areas of employment, mutually beneficial partnerships, services and varied opportunities.
Maximise and retain valued knowledge, experience and expertise.
Have committed and motivated staff who feel fairly treated and respected, leading to better employment relations and fewer grievances.
Attract new talent and fresh perspectives, given research confirms increasing numbers of prospective applicants specifically seek out employment in organisations with strong values and a good EDI track record and many examples of stronger performance by heterogeneous teams.
Continue to nurture creativity, innovation and flexibility and spot new opportunities to work with others, as well new approaches and sources of support.
Remain relevant and dynamic and achieve greater reach and impact through engaging with a diversity of perspectives, needs, abilities and circumstances and securing new opportunities for income generation.
6.    Can you name three diversity challenges that companies have to pay attention to?
My top three challenges are 'walking the talk', having a committed and strong EDI leadership and mainstreaming EDI in everything you/we do.
7.    What do you do to convince your colleagues to see the value in diversity management, or even more to truly get them on board?
Lead by example. I believe it is extremely important to empower people with the right knowledge and give them confidence to explore opportunities in the field.